(Cross posted to the offical Google Australia Blog)
Last weekend, OpenAustralia held its second hackfest at Google's Sydney office. If you haven't come across OpenAustralia.org before, it's a volunteer run website which helps you to find out what your representatives get up to in parliament with the aim of bridging the growing democratic disconnect that many people feel.
This time we went all out with a two day hackfest – 10:30am till 8pm both days. That's over 18 hours of hacking! As well as the venue and a fabulous team of volunteers, which included Tim Ansell, James Polley and Pamela Fox, Google provided lunch and snacks for both days. Thank you to Google for supporting this community!
It was an amazing turnout by an incredibly talented group of people. Over 90 people took part, including a surprise group from CSIRO who happened to be wandering past and dropped in to see what we were up to. We were also delighted to have 30 people take part in the first ever retroactively-named OpenAustralia installfest – installing the development virtual machine onto their laptops, and walking through the first steps showing how they can make changes to the code, test locally, and then submit to our repository on github. During the course of the hackfest, we had half a dozen or so patches pushed to us – we're still working through the process of accepting them all! We also had 40-odd updates to bugs on our tracker.
Photos by Halans. For more fabulous photos by Halans and others see Flickr
This hackfest was timed to coincide with the Gov2.0 TaskforceMashupAustralia competition, and we encouraged people to work on mashups for the competition, OpenAustralia itself, or any other civic-minded project.
At the same time hacking on MashupAustralia on the weekend was the #melbhack session, organised by Lonely Planet and the GovHack folks.
If people weren't in the mood for hacking, either on a mashup or OpenAustralia, we had presentations and directed hacking sessions scheduled throughout both days. Plenty for all to do.
We gave out small prizes (donated by Google) to some of our favourite mashups created over the weekend. Working demos, however rough, won out over plans, however well-formed.
Our favourite mashup, the "Suburb Matchmaker", was created over the weekend by Raul Alberto Caceres (@totocol), Daniela Fernandez (@danira_98) and Roberto Arias Alegria (@roberto8080). It was particularly impressive that this team met over lunch on the first day and decided on the spot to work together. "Suburb Matchmaker" helps you find the suburb that's right for you by answering some simple questions.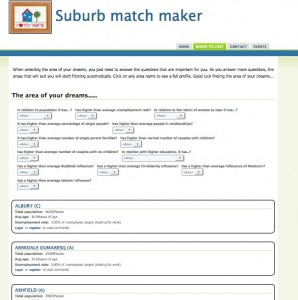 Second place went to the "Frog Census" by Simon Swain (@psi6030). See where and when different frogs have been spotted in South Australia.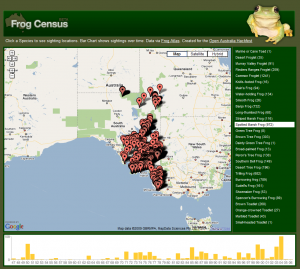 The irreverant "Bouncing Teapots" by Dan Bethell (@fxmonkeydan) and Ray Haleblian (@rhaleblian) came third. The "Bouncing Teapots" simulated members of the House of Representatives as teapots falling where the more time they spoke in parliament the more bouncy they were.
We hope that one of these or one the many other projects that were worked on over the weekend will win the MashupAustralia competition!
To follow OpenAustralia's progress and find out when we'll be running the next Hackfest near you please read our blog, follow us on Twitter, Facebook or join our community mailing list on Google Groups!