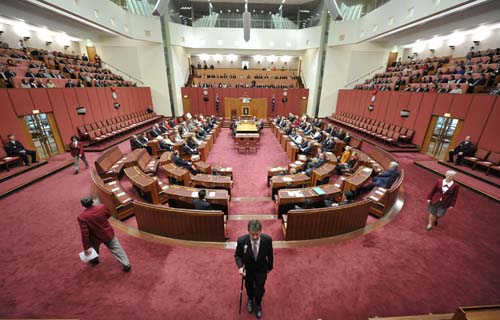 Earlier today a motion was presented to the Senate which notes the creation of the Freedom of Information request site Right To Know we launched yesterday and which urges the government to, "use the site, provide feedback, and support the Foundation in its aim of encouraging effective citizen access to government information."
We are very pleased to see that the motion was agreed to and we thank the Senators.
We were however surprised to hear that the government indicated that it did not support the motion and we were even more surprised to find that the reason was what someone else said about the site in the media. We think this is a simple misunderstanding.
The aim of Right To Know is to make it easy for everyone to make Freedom of Information requests which are in the public interest. It is based on the well established model of the UK project WhatDoTheyKnow.com created by mySociety, which has been operating for more than 5 years and now accounts for 15-20% of all FOI requests made in the UK.
We genuinely believe that over time, Right To Know has the potential to help government agencies as well as citizens. By teaching people how to put in more targeted, effective requests they become easier and cheaper to fulfil. Publishing all requests made via the site in a discoverable, searchable form reduces the cost and effort of duplicate requests.
As Craig Thomler, Government 2.0 expert, said yesterday, "I'm hopeful that the government and public service will look on the launch of Right to Know as a positive step that supports the goals of FOI…"
We think they are – we've been delighted by some super–helpful agency responses already.
Because the site also opens up the trail of correspondence between the requester and the agency, again, over time we expect we'll see patterns emerge both in the kinds of requests being made, as well as the sorts of responses and outcomes they achieve. This new wealth of information, which is not currently available, will allow everyone to assess what is working and not about the Freedom of Information system.
Right To Know will help more people participate in this important part of our democracy. As Peter Timmins, FOI lawyer and consultant, said, "…use of the FOI act for accountability or participation in government purposes at the national level is pathetically low. Right to Know may change this by removing some of the mystique."
The more we find out about how government works, the better able we are to make suggestions to improve the things that are done badly, and to celebrate the things that are done well. Find out more at Right To Know.
---
Thanks to aph.gov.au for use of their photograph of the Senate (CC Licensed)
Updated to link to the OpenAustralia.org Senate motion.