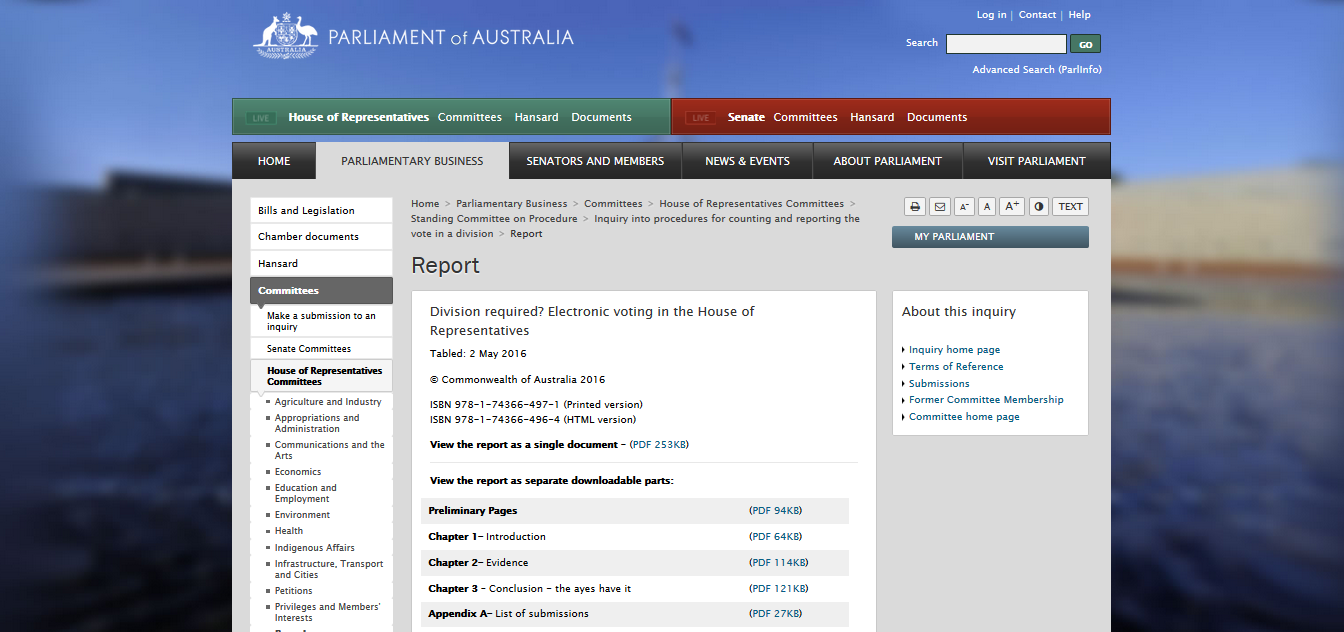 Back in March, we submitted our views to the House of Representatives Standing Committee on Procedure's inquiry into electronic voting. And their Final Report is out now!
Our submission outlined the benefits that electronic voting could bring by creating a fuller voting record, which increases accountability and transparency. Unfortunately, the Committee didn't quite see it that way. In fact, the entire Final Report can be summarised by just one of its sentences:
"The House would not need to significantly change its practices and procedures in order implement electronic voting, if it did not wish to do so." (paragraph 2.21)
And in case you're wondering: no, the House does not wish to do so.
What were the Committee's conclusions?
The Committee was Chaired by Liberal MP Andrew Southcott and followed on from an earlier 2013 inquiry into electronic voting chaired by former Labor MP Geoff Lyons. While that earlier inquiry concluded against introducing electronic voting, this inquiry supported it – so long as it didn't change current voting procedure too much.
The Final Report concluded that if electronic voting were introduced:
the House should continue to physically divide to the left and right of the Chair during divisions (or formal votes);
there would not have to be any more divisions than normal; and
the Chair should keep the ability to stop a division when there are four or fewer MPs on either side (indeed, the Committee said in paragraph 3.5 that the Chair "must retain" that ability).
One of the "significant benefits of electronic voting" is the increased speed that results could be published (paragraph 2.12 to 2.16). However, keeping current voting procedure relatively unchanged means that any time saved by electronic voting would be modest (paragraphs 2.7 to 2.11).
What about our submission?
In our submission to this inquiry, the OpenAustralia Foundation proposed that electronic voting should be used by the House to ensure that all or most votes can be taken by division (which means they are officially recorded) rather than 'on the voices'. We argued that this:
"will resolve a major gap in the current counting and reporting procedures by allowing the House to produce a fuller voting record. This record will be used by Australians to hold their MPs accountable, and will become an important historical record of MPs' contribution to our democracy. Without this level of accountability, our democracy remains open to abuse by politicians who say one thing to their electorate but vote quite differently within Parliament."
The Committee disagreed, concluding that:
"All decisions of the House, whether a division is called or not, are recorded in the Votes and Proceedings. Therefore the Committee considers that there is sufficient transparency for votes that are taken on the voices." (paragraph 3.13)
What does "sufficient transparency" look like?
To find out what this "sufficient transparency" looks like,  I've decided to see if I can use Votes and Proceedings to find out how my MP voted on the Australian Citizenship Amendment (Allegiance to Australia) Bill 2015. The main idea of this bill was to remove the Australian citizenship of a dual national in certain situations, including if they fight for or serve a terrorist organisation (read more in the bills digest and ABC News). This marked a fundamental change in how citizenship was treated in our country and yet the bill passed through the House of Representatives without any divisions being recorded – all votes were 'on the voices'.
When I enter the Votes and Proceedings website, I'm greeted with this screen of sitting dates: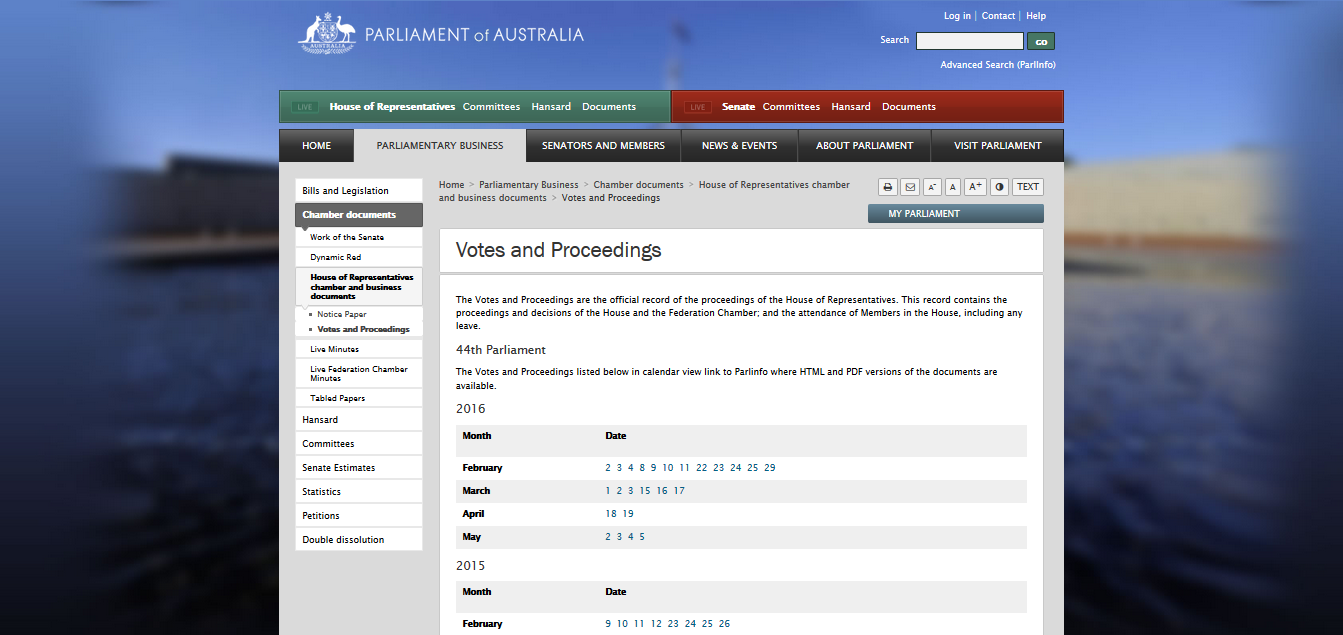 So to use this site, I'll first need to look up the date my bill was debated. Since I've been playing around on the Parliament's website for a while now, I know that every bill has a homepage that includes the relevant dates. I find my bill's homepage and see it was debated over four days in the House of Representatives. Since I'm interested in all the votes that may have happened on this bill, I start from the first day of debate. But it turns out that there were no votes until the fourth and final day. The entry in Votes and Proceedings about these votes looks like this: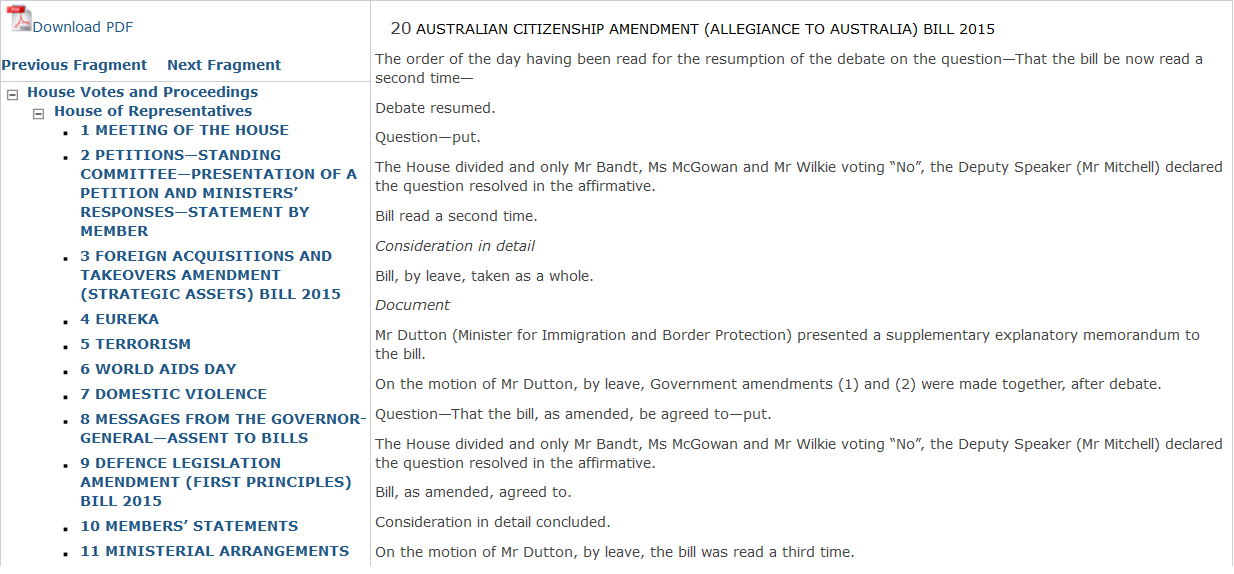 Luckily for me, I speak almost fluent parliamentary jargon, so I know that this record means that three MPs shouted "NO!" when asked if they agreed with the bill's main idea (known as giving the bill a second reading):
The House divided and only Mr Bandt, Ms McGowan and Mr Wilkie voting "No", the Deputy Speaker (Mr Mitchell) declared the question resolved in the affirmative.
Those same three MPs then shouted "NO!" again when asked if the bill should be agreed to after being amended by the Government. The record does not say if anyone shouted "NO!" when asked if they wanted to pass the bill (which is known as giving the bill a third reading). This seems a little strange as I can't see those three dissenting MPs suddenly shouting "AYE!" after all that previous objection. Did they give up at that point and say nothing?
My MP wasn't one of those three dissenters, so I'm still no closer to finding out how they voted. With no list of who was in the Chamber when these votes 'on the voices' took place, I have no way of knowing whether my MP was even in the room! After all, our representatives' attendance levels vary greatly: from 100% attendance to just 7.3% (Clive Palmer). Perhaps the Committee who wrote this Final Report on electronic voting believes that we have the time to sit and watch our MP in Parliament all day in a situation like this. Does that sound like "sufficient transparency" to you?
Two standards of transparency?
After concluding that "there is sufficient transparency for votes that are taken on the voices" (paragraph 3.13), the Committee then considered the importance of transparency for votes taken by division. They wrote:
"Votes taken by division are votes where there is significant dissent from the majority view of the House and it is of the upmost importance that there is transparency around these decisions. Electronic voting has the potential to further enhance the transparency of division results and their speed of publication." (paragraph 3.14)
Does this mean that the Committee believe that transparency is only of great importance when there is "significant dissent" in the Chamber? And that, where there isn't significant dissent, transparency only need be "sufficient"? If so, that would be troubling indeed. Not least because several of the most controversial bills in terms of public opinion attract very little dissent in the Chamber of the House of Representatives – like the Australian Citizenship Amendment (Allegiance to Australia) Bill 2015 mentioned above.
Other controversial votes that passed through the House of Representatives 'on the voices' (and therefore, without significant dissent), include:
Compare those issues to the following list which did generate enough dissent for the House to vote by division rather than 'on the voices':
We can't see any clear difference in the level of importance between the two lists as both touch on important issues that should be debated.
So our question to the Standing Committee on Procedure is this: why aren't all these subjects worthy of the same level of transparency?