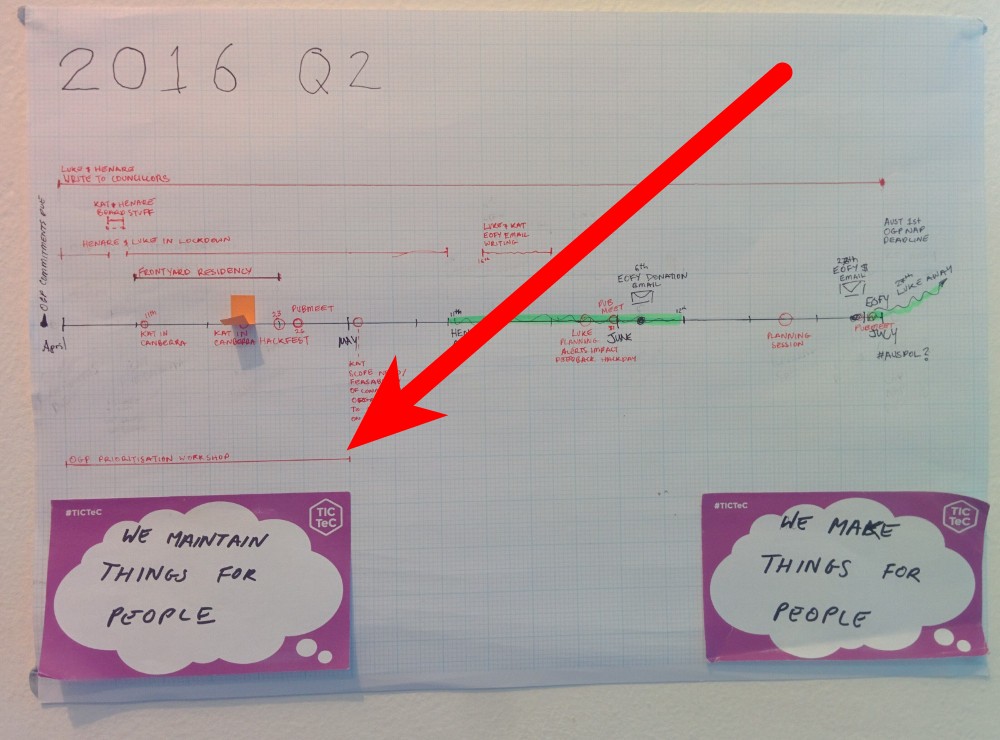 About a month ago we had our major planning session for 2017. The idea is to get everyone together for a few days, share and discuss project ideas, and ultimately come up with a plan for what OpenAustralia Foundation should work on over the whole year.
We've done quite a few of these sessions now and each one ends up being different. We spent the first day of our most recent session reviewing 2016 and writing down all the things we want to work on – from bugs we want to fix, right through to major new projects we want to work on.
Usually this ends up as a grab bag of amazing new civic projects we've been dying to create for Australia. Instead we noticed a distinct theme. Many of the things we most wanted to work on were essentially maintenance tasks – fixing long-standing bugs, paying off technical debt, or improving our infrastructure.
After a bit of thought we realised that this focus is a product of the environment we've been in for the last several months. Because Luke and I have been fire-fighting some challenging stability problems with our projects we weren't in the frame of mind to come up with more projects to create – and maintain!
This made us remember another important thing too. In the more than 8 years that OpenAustralia Foundation has been creating civic projects we've seen a lot of other projects come and, sadly, go. A defining characteristic of our projects is that we maintain them. It's one thing to create a shiny new project but it takes a different level of dedication to maintain things year in, year out. It might sound obvious but a project needs to be maintained for us all to benefit from the civic good and the change it promises to create.
So we've decided to dedicate this quarter to some much deserved maintenance work. At our next quarterly planning session in late March we'll revisit things and see if we're ready to explore major new projects and features. To help feed that inspiration we're going to experiment with talking to different groups of people creating change in Australia that might benefit from some civic tech goodness.
The nuts and bolts
To do this work we decided to create a backlog in a Trello board and just start working through it, instead of estimating and scheduling projects like we have done to date. Here's a selection of things we've already done:
And some of the things we've got in the backlog:
Here's to showing our projects some extra maintenance love :)