Following on from some recent queries on Twitter, I thought it was a good idea to sit down and provide a guide on some of the ways you can keep in touch with a request on Right to Know.
Right to Know is a simple, free service provided by the OpenAustralia Foundation that takes the confusion out of asking the Federal Government for information. It enhances accountability by showing you all requests made using the site, and the responses from the Government.
There are a few ways you can find requests, some include:
Searching by authority
Searching by status
Searching by user
You can also "follow" almost anything on Right to Know, which allows you to receive a daily digest when something matches what you've followed. Most of the time people follow single (or multiple) requests, but what you may not know is that you can follow an authority, a user, a search term or even the entire site!
With Right to Know growing (we have over 570 authorities, and over 830 users who have made 880 requests so far!) I thought it would be good to describe some of the ways you can keep up to date with requests and topics on Right to Know.
Before you begin
Anyone can search for requests, but you'll need to register to be able to make a request, comment on a request, or follow a request.
Registering is quick and easy, all we need is your name (you can use a pseudonym if you want) and email address. We believe in transparency, so we describe how we will use your information on our Privacy Page.
Searching and following requests by authority
If you're interested in a particular authority (such as the Department of Immigration, or ASADA) you can see all requests made to that authority, and also follow it to be updated whenever a request is made or updated.
To do this, click View Authorities on the top. Here you see a list of all authorities, and ways to group them (on the left hand side). You can also search for authorities using the search bar just above the list: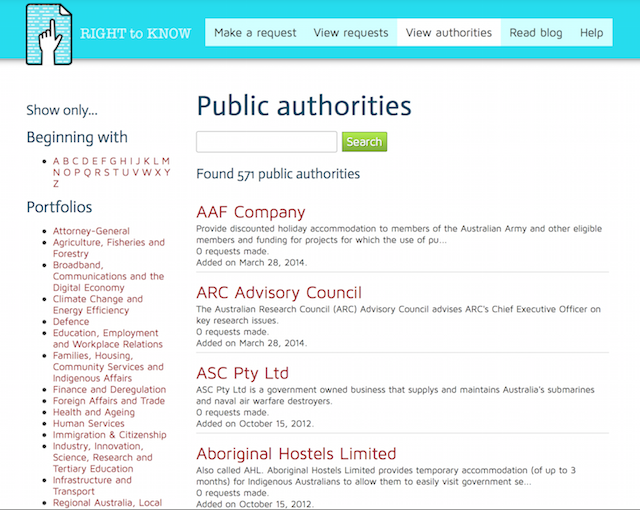 When you find the authority you're interested in, just click it and you'll be taken to the page for that Authority (I've chosen the Immigration Department as an example):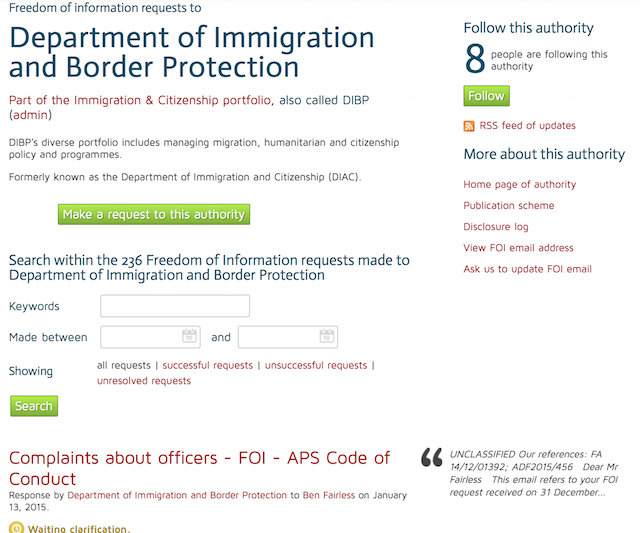 From this page, you can:
Find information on what the authority does
Follow (for email) or subscribe to an RSS feed to receive updates on requests
Find out how many requests have been made in total
Browse a list of all requests, or look at requests which are successful, unsuccessful, or unresolved.
Search for requests made to that authority
Searching and following requests by keywords
Some people might be interested in a specific topic which could apply to multiple authorities (such as "Technology", "Open Government Partnership" or even "Religion").
Right to Know makes it easy to find exactly what you're looking for, using the search bar at the top of the page, or the Advanced Search feature.
If you want to follow anything about, for example, Religion, you simply search for it:

Then on the search page, simply click the Follow button on the right hand side: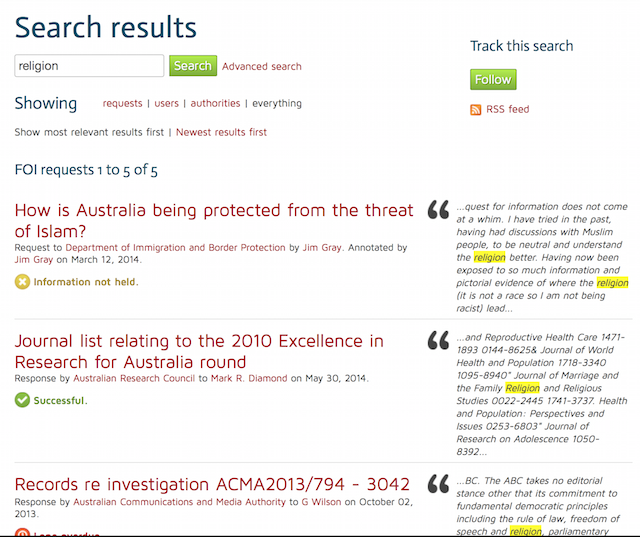 That's it! Right to Know will automatically email you once a day with any new requests or comments related to that search.
Searching and following people on Right to Know
Right to Know has some amazing contributors, and sometimes it can be great to see what some of these contributors say.
To follow a contributor, simply search for the user or click their name, and you'll be taken to their page (I've chosen a new user to Right to Know, Vera Lystich):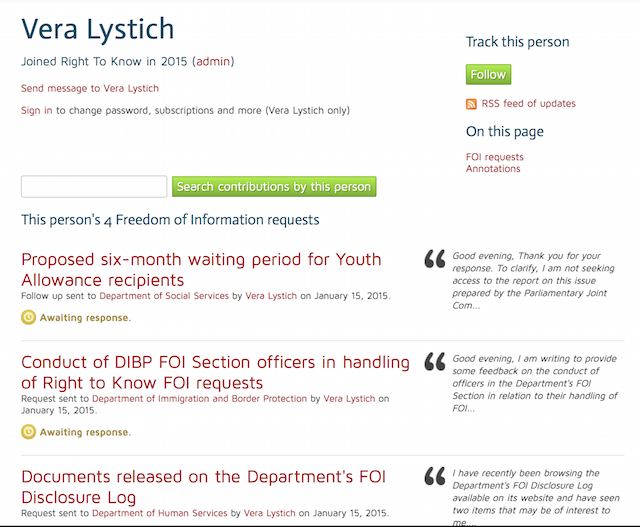 Simply click Follow, and that's it! You receive an email with that person's comments and requests every 24 hours.
 What if I want to stop following something?
While we only send you one email per day (we combine everything you follow into a helpful daily digest) we don't want to send you emails about things you're no longer interested in. That's why we include a link to change your preferences. Simply click the link to be taken to a list of the things you follow, where you can unsubscribe with the click of a button.
More Information
You can find more information on how to search and follow requests on the MySociety blog – https://www.mysociety.org/2014/09/19/how-to-keep-up-with-hot-topics-in-your-local-area/ and https://www.mysociety.org/2014/09/29/subscribe-to-foi-requests-on-any-topic/
You can also get in touch with the team at Right to Know, either via email (contact@righttoknow.org.au) or on Twitter (https://twitter.com/RighttoKnowAu).
If you want to support Right to Know, please consider Volunteering or making a small donation to the project.