Guest post by Service Designer and Researcher, Sabina Popin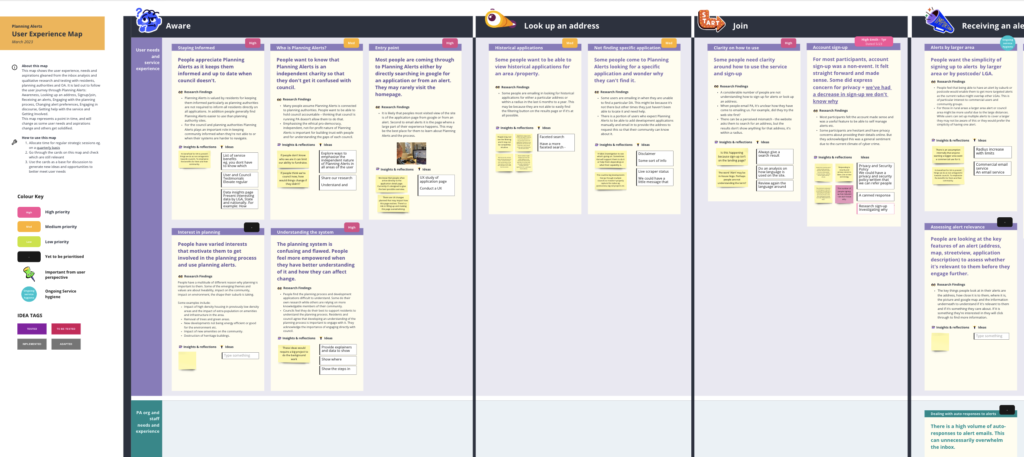 Welcome to the journey of improving Planning Alerts!
The OpenAustralia Foundation is a tiny organisation that gets a lot of email! Thousands of emails a year are directly in relation to the Planning Alerts service, people who use the service reaching out asking for all kinds of help. Currently they respond to each email individually, and as the service grows this is becoming harder and harder to do. As a team, they are always on the lookout for ways to improve their services in the most cost-effective way possible. They focus on making the smallest changes that have the most significant impact. However, in the case of Planning Alerts they struggled to differentiate between the problems people were facing when using the service and the issues they themselves wanted to fix. They wanted a process that provided a more systematic approach rather than relying on gut feelings alone, and that's where my service design skills came in handy. They invited me to join the team for a few months to put my skills to good use in helping them find opportunities to improve the service. Ultimately to improve the experience for people who use the service and enable staff to put their effort in where it matters most to people so they can have a say on issues that matter most to them.
In this three-part series, I will be sharing the teams and my learnings from this project. In this post I'll walk you through a summary of the entire project. In the second post, you'll see how I conducted research and testing, and what insights emerged. Finally, the third piece dives into the project's output and the team's next steps. Put simply, you'll get the low down on the entire process behind some of the changes you will see around the Planning Alerts service. 
A Beginner's Mindset in Service Design
While Planning Alerts had never used service design at this scale before, for me this felt like a comforting familiar flavour to how I've made my bread and butter for the past 10 years as a service and strategic designer. Except for a couple of small details… I knew zero, zip, zilch, nada about planning. I had also never worked within the civic tech space… in a charity… run by a teeny tiny team of two! Eeeep!
Sure, uncertainty, anxiety, and self-doubt may seem like red flags in other professions, but for us, they're key ingredients for good design. In my work I'm often diving head first into a new world for each project. And, for a service designer, having a beginner's mindset is a must-have. By approaching each project with an open mind, we can connect with people on a deeper level, eliminating assumptions and biases along the way. Most importantly, by approaching with fresh eyes, we're primed to spot nuances and details that even the savviest subject matter expert might overlook.
Building on the work of others
My 3-month adventure with the Planning Alerts team was packed with insights gleaned over 6-8 weeks worth of work. As a newcomer to this space, I was thankful for the earlier work Jo Hill did with the team to understand what people were getting in touch about and why. This provided an excellent starting point. Jo Hill's write-up and service blueprint provided a great overview of the service, while the categories and insights gleaned were an invaluable starting point for mapping people's needs. The results of that work were eye-opening for the team and provided categories and initial insights to guide the Planning Alerts team, along with a set of suggestions on where they might focus next. Which set the stage nicely for my work.
Diving into the Deep End: Unearthing Insights, Ideas and Opportunities
I dug into about a year's worth (Dec – Feb 2022) of Planning Alerts inbox emails. That's thousands of emails from people. I then built on the previously created email categories and data analysis using a virtual wall (Miro board) built in white boarding tool Miro. With this mapping exercise, I identified key insights and opportunities for improvement. I met with the team regularly, sharing insights from the inbox research, and together we simultaneously discussed the insights and generated ideas and opportunities over zoom and screen sharing. This was made possible as the Planning Alerts team of two are both responsible for decision making and implementation. This means they're able to hold both a strategic and practical implementation view at the same time, and this is in fact this is how they regularly work. So while I normally wouldn't do things in this all-in-one way, adapting to their natural way of working meant that multiple pieces coming together in parallel felt exciting and energising and gave us all momentum.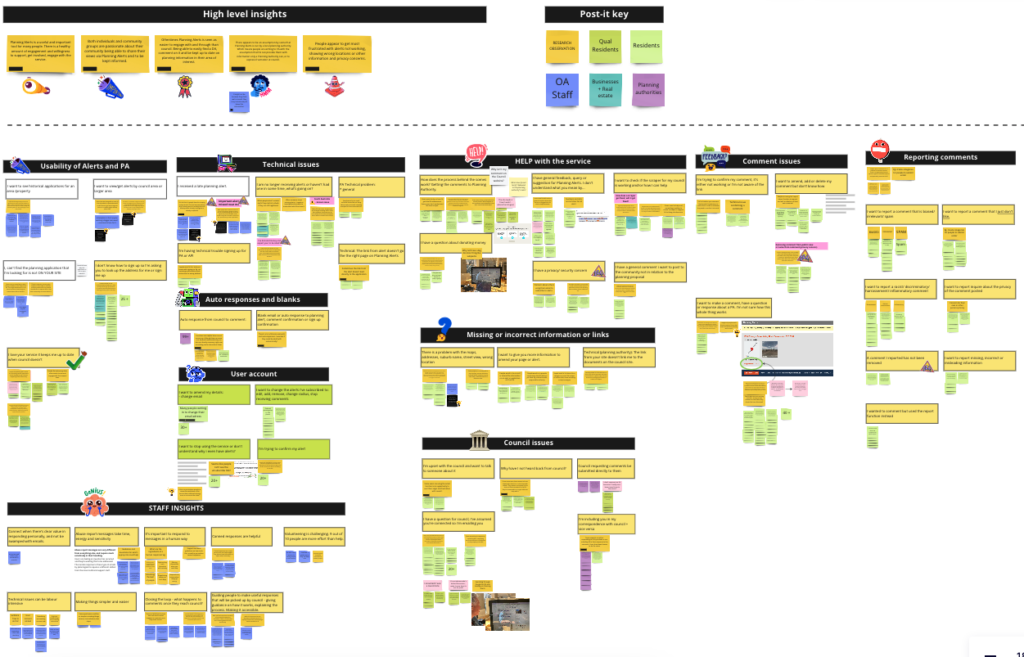 But the inbox study alone wasn't enough, we knew we had to bust or validate assumptions we had made. So to ensure we didn't get stuck answering the wrong problems, or miss some giant elephant in the room, we interviewed people who use the service. We asked them about their experiences using Planning Alerts and the planning process in their area more broadly. In addition we created prototypes of intended changes to the service and brought these along to test out.
After synthesising and analysing interview data, came another round of team sharing, reviewing, prioritising, and organising ideas into buckets of what is desirable, feasible, and viable to create in the short, medium, and long term. Together we unearthed some of this project's treasures during epic zoom sessions including a series of vital service principles.
Creating Artefacts to Support Decision-Making and Action
The next step was to honour the treasure we found, by creating outputs of different kinds (artefacts) that the Planning Alerts team could use to support their decisions to make practical improvements to the service. These included a set of current state key insights and a Service Improvement Toolkit. These comprehensively document everything we learned about what people who use Planning Alerts need, their pain points, and outlining service improvement opportunities in a Miro board.
We agreed that artefacts I created would need to be super practical. The Planning Alerts team wanted to use these both to support their decisions on how to improve that service and keep them on track and accountable. I turned the quick wins and high priority opportunities for improvement into Github issues so that they're immediately part of the usual working environment, ready for action.
In the next post, I will share more detail about the research and testing, the juicy insights that emerged, the exciting new features that we prioritised to implement. And trust me you do want to see how this delicious sausage is made!